Frequently asked questions
What bushings do you recommend for my weight?
---
Bushing setups are a highly subjective, but we've put together the table below to serve as a starting point. The bushing durometers are listed as "front truck/rear truck" assuming roadside and boardside bushings are the same in each truck. For example, if I weigh 175lbs and am setting up 45°/30° Slaloms, I'll start with 85/85a in my front truck and 95/95a in my rear truck.
---
What width hangers will fit my deck?
---
General rule of thumb: you want the edge of your deck inline with your wheels. This helps maximize leverage without making your setup feel "tippy." The table below shows the widths of several popular wheels setup on our trucks (i.e. Seismic Alphas sit at 8.7 inches at the 125mm width on our Mk2 Slaloms). We'll be adding more wheels over time, but drop us a line if there's a specific wheel you'd like to see on here.
---
What angles should I get?
---
**coming soon**
---
Tall vs standard height bushings?
---
**coming soon**
---
How do I tell what angle my adjustable base is set at?
---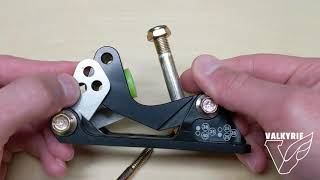 ---
---